Visa Exemption to Brazil
Brazilian senators have approved a bill that will exempt visa requirements to all foreigners traveling to Brazil during the period of the Olympic and Paralympic Games in Rio de Janeiro.
More people traveling to Brazil
The idea behind the law is to have more people traveling to Brazil during the games. Tourism Minister Henrique Alves said that it was a victory for the tourism industry. Several states throughout the country will also benefit with it. More destinations unknown to the general public will be discovered and visited for the first time.
Brazil has much more to offer than what you see below!
Not only the Christ and the Sugarloaf
These are the 2 main and most visited attractions in Brazil: Christ the Redeemer and the Sugarloaf, both located in Rio de Janeiro. The Tourism Ministry intend with this new bill to promote great places and regions that normaly would not attract foreingners, such as the South of Brazil. Santa Catarina and Paraná are 2 beautiful places that are quite often forgoten by the tourists.
See the Iguaçu Falls in Paraná State below: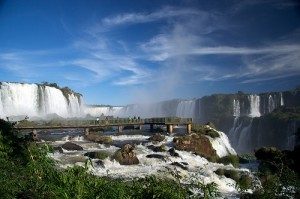 We hope that the bill in fact works and people see Brazil as a much more appealing destination. What do you think about the visa requirement exemption? Would you come to Brazil? You can leave your comments below.