We see more ilegal workers at the Christ in Rio 
There is a group of people doing ilegal work at the most visited attraction in Rio de Janeiro and in Brazil: Christ the Redeemer. will talk about it in a moment.
Better service at the Christ
Since 2003 we are experiencing a much better service at the Christ when it was offered the possibility of online shopping. Yes, now we go online to purchase the tickets. These tickets give you the option to choose the time you wish to take the train to go up the mountain all the way towards the Chirst. You can not buy the tickets to go by van.
Only 2 option to visit the Christ
There are only 2 options if you wish to visit Christ the Redeemer: By train or by van. Trains depart every 20 minutes and it is a much more organized option. There are also 3 departure points if you wish to go by van instead: Praça do Lido (In Copacabana), Largo do Machado and Paineiras.
What do ilegal workers at the Christ offer?
They approach you to purchase the ticket without having to line up for it. And they also offer a vehicle to take you to the Christ stoping at 2 lookout points. This in reality is not possible and do not happen. The official vans and the train do not stop at any view points for the tourists to take pictures, and there is no other way to visit the Christ if not by these 2 transportation options.
They wear uniforms and badges so they look more official. But don't fall for it!
Here is a link that I use if you wish to buy your tickets online:
Our business also provides tours to visit Christ the Redeemer if you wish. Just send us an email.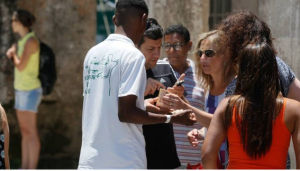 Have you been to the Christ? How did you get there? Was it easy? Share with us your experience!