Rio de Janeiro Airport Transfer
Book your Rio de Janeiro Airport Transfer with us!
Here are some reasons why you should book your Rio de Janeiro airport transfer with us:
– The price is fixed: You don't pay more in case of a traffic jam. And the traffic can be very busy in Rio!
– There will be no hidden charges, like luggage surcharge.
– No weekend rates.
– Punctuality: We will be there waiting for you and your transfer will be held by professionals.
– Private service during our Rio de Janeiro airport transfer: there will be no one else in the vehicle, but you or your group.
– Traveling United from the United States to Rio de Janeiro? We track your plane in United´s website to know the exact moment you land in Rio!
Prices for our transfers in Rio de Janeiro from US$ 55.00
Arriving in Rio:
Transfer from Rio de Janeiro International Airport to Copacabana, Ipanema or Leblon:
1-2 pax US$ 80
3-5 pax US$ 95
Returning to Rio International Airport:
Transfer from Copacabana, Ipanema or Leblon to Rio de Janeiro International Airport:
1-3 pax US$ 70
4-5 pax US$ 85
For transfers up to 3 passengers we use our new Honda Civic. A private driver/guide will be available for you during your transfer in Rio de Janeiro.
Please contact us for different destinations in Rio de Janeiro.
---
After a very busy couple of months (June/July) during the Soccer World Cup in Brazil, and in Rio in particular, we are back to our normal activities. Our transfers from/to Rio de Janeiro airport are available 24 hours per day, 7 days a week.
Don't have much time in Rio? We would like to recommend you our 4-hour Rio de Janeiro city tour. We can even combine your airport pick-up with a city tour. Then we can take you to the airport in Rio.
A few updates…
September 2014
We have recently purchased a Ford Fusion to offer an even higher level of comfort during our airport transfers in Rio de Janeiro. This vehicle is ideal for up to 3 passengers and their luggage. A comfortable trip from the airport to your hotel in Rio.

October 2014
We have decided not to alter our prices for the 2 remaining months of the year. Therefore if you book your Rio airport transfer before the end of the year you will benefit with the best possible prices in Rio de Janeiro.
January 2015
Special rates for up to 3 people in our transfers from Rio airport to Copacaba or Ipanema. Please see above.
March 2015
Carnival is over and we are back in action offering the same great Rio de Janeiro airport transfer service!
October 2015
We are getting closer to the Olympics in Rio de Janeiro. Don't leave your Rio de Janeiro airport transfer for the last minute.
November 2015
A new summer is coming. Book your transfer in advance.
April 2016
A brand new Honda Civic has been purchased for the business.
September 2016
Olympics are over! Now we are able to take most of the bookings.
February 2017
Carnival is coming! An other busy season ahead of us in Rio!
The new terminal in Rio de Janeiro airport is fully operational. All the procedures of arrival and departure will take place in terminal 2. All the airlines will be working at this terminal. The old terminal 1 has been closed.
Here's a picture of our brand new terminal 2: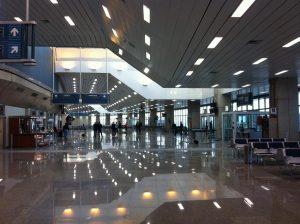 March 2017
The cruise ship season is almost over. Are you coming to Rio next year on a cruise ship? We can organize your tours in Rio starting from the cruise ship terminal.
July 2018
We are having a cold winter in South Brazil (picture below) but in Rio de Janeiro the weather has been great as always!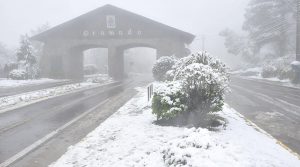 January 2022
Wish you all a fantastic 2002! Hope we have a better year with the Covid-19 pandemic under control. You'll have to be fully vacinated to come to Brazil on a tour. Please make sure you do it!
Let us know when you are arriving in Rio de Janeiro and book your transfer now!
Need to organize accommodation in Rio as well? We can do it for you. Here it is our email address.
Need to know how much your currency is worth in Brazil? Find out more here.
Find out more about Rio de Janeiro international airport visiting the Rio Airport Terminal page.