Leme Beach in Rio de Janeiro
Once in Zona Sul (or South Zone) Leme is the fist beach you see. It´s just before Copacabana and it´s stretches for only 2 hundred metres, from Leme´s Mountain (Morro do Leme) to Princesa Isabel Avenue.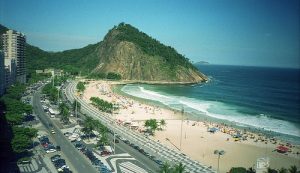 Leme has its name due to a rock formation, which resembles a rudder or Leme in Portuguese.
If you are looking for a not so busy beach, Leme is your place. And if you are in Copacabana you definitely should go for a walk towards Leme. You are going to love it!
On the picture below you can see the exact location of Leme beach ('A') and also Morro do Leme, the 'rudder´:
You can book your hotel in Copacabana and enjoy Leme. Both beaches are really close to each other.