From New Zealand to Brazil
That's great you are here on this page!
Where it all started.
When I was a kid (9 or 10 years old) I remember watching movies in English and in German and trying to read the Portuguese subtitles. Quite frustrating . They were too fast for a young boy! At the same time I tried to match them up with what was being said by the actors . Even harder. A passion was growing in me at that time: the passion for languages!
Learning Languages.
I grew up then studding English and French. Also completed a 2-year Spanish course. With the German comes the excuse of lacking time. A valid excuse actually. I was busy doing Economics in Niterói (a city close to Rio) and working in a bank in Rio. Had no time to finish the German course. However I still manage to communicate myself when visiting Germany. I just need more vocabulary.
Off to Australia!
I've had the opportunity to visit Australia. Was going to look after a friend's place while he was in Greece for 3 months. Got the time to improve my English and of course got a bit of the Aussie accent! The job in the bank by that time was history. It was 8 years of hard work.
On my way back to Brazil I've managed a stopover in New Zealand. Just by curiosity I've paid a visit to its Immigration Department. What a surprise! With the language skills I had, a job offer to work in a hotel and the Economics diploma I could apply for residency. And that's what I did!
Tourism course and own business.
Once in New Zealand I went to the International Travel College and had begun working in a hotel. The year was 2000.
Guests would come to me asking for tours, for things to do in Auckland (where I was living),etc. The flame of starting my own business was on! NZBR Tours came to life and for 14 years I took my clients all over the country. Was living the dream!
Back in Brazil.
The Soccer World Cup was coming up in 2014. This helped me to make up my mind: time to go back home. Worked for Coca-Cola on its VIP's Exclusive Programme as a tour guide. Coca-Cola hired me again for the Rio Olympics in 2016. So I've been here in Rio since then.
What about you? Still here?
Great! Because I would like to offer you my services.
Let me know what you have in mind. Which places you would like to visit. Together we can organize a fantastic tour in Rio de Janeiro.
Ops…by the way my name is Flavio Alvarenga and I love what I do!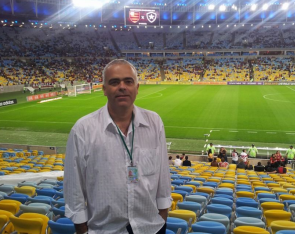 See below what I can offer you. And the guests' comments on TripAdvisor: