Rain in Rio Carnival!
It was a pity for many of the participants during the first day of Carnival in Rio yesterday. We have been waiting for this rain for at least a month and finally we´ve got it. And lot´s of it!
The rain starts during the opening of the Sambas Schools parade at Sambódromo ( a huge avenue where the parade takes place).
Here you see pictures of the streets in Rio during the storm and also at the Sambódromo: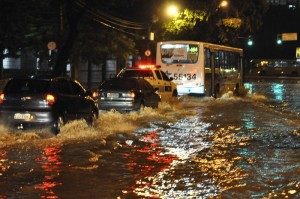 Samba Schools
The first Samba School at Sambódromo was Viradouro, which is located in Niterói (city across the bay, separeted from Rio de Janeiro by a 14-kilometer bridge). They did very well. Then it was Mangueira´s turn, the most traditional School in Rio. Its colours are green and pink, and it´s always beautiful to watch Mangueira at the Sambódromo. They also did a great job!
Despite the rain Carnival went well on its first day and participants have managed to put up a great show!
See how pretty Mangueira is during the Carnival parade: