The 2015 Carnival in Rio de Janeiro is about to begin!
The official day for the Carnival in Rio de Janeiro (Carnaval in Portuguese) in Rio is on next Tuesday the 17th February, but the party starts today and finishes on Wednesday the 18th February.
A party for family and friends.
Family and friends get together to celebrate one of the biggest parties on earth! The parade is on tonight with several Sambas Schools. It lasts for 2 days and the top 5 will participate again on a special parade next Saturday. Yes, Carnival will be over but we still have this special event.
You see one of the Samba Schools, which have up to 3500 people each, during the parade: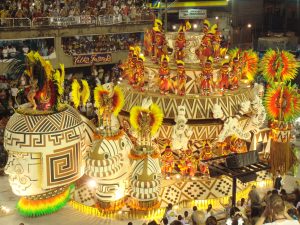 This one shows one of the many 'Blocos´ (Carnival made for friends) parading in Rio streets: