Itacoatiara. A great place to visit in Niterói, Rio de Janeiro.
Without a doubt we can say that Itacoatiara is the most beautiful beach in Niterói, Rio de Janeiro. If you come on holiday to Rio, Itacoatiara is worth visiting. Located only 40 minutes by bus from the ferry terminal it offers great views and amazing photo opportunities!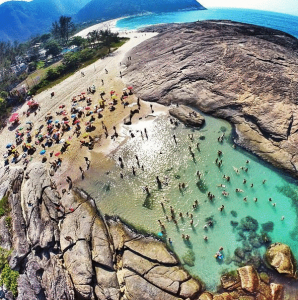 Once in Rio you should go to the ferry terminal located at Praça XV. It´s a beautiful 20-minute ride across the Guanabara Bay. Once in Niterói you take the bus number 39 towards Itaipu. Or you can catch a cab to make your journey even faster.