Royal Portuguese Reading Cabinet
A great place to visit in Rio de Janeiro is the Royal Portuguese Reading Cabinet.
Was passing by the main streets in Rio downtown on my way to take the ferries to Niterói. Could not miss this fantastic building, full of history and books! A place to admire, to study, to research, etc…
Unfortunately the Royal Cabinet has been closed for over a year now. And it will be like that for the next couple of months. A major upgrade at the roof and paintings throughout the entire place are happening at the moment.
Would like to know a bit more about the Royal Portuguese Reading Cabinet?

It was a project of the Portuguese architect Rafael da Silva e Castro. Erected between the pattern of exuberant Gothic-Renaissance effect at the time of the Portuguese Discoveries.
Opened in 1880 on the centenary of the death of Camões, the presence of D. Peter, it houses the largest number of works by Portuguese outside Portugal. About 400 thousand titles of Portuguese Literature.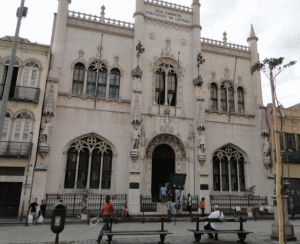 The facade, inspired by the Jeronimos Monastery in Lisbon, was crafted by Joseph Germano Salle in limestone rock in Lisbon and brought by ship to Rio de Janeiro.
Open to the public since 1900, the library of the Royal Cabinet, daily, receives, on average, one hundred and fifty visitors.
You can't miss this amazing building if you are visiting Rio de Janeiro!

Here it is the official site of the Royal Portuguese Reading Cabinet in Rio de Janeiro.
Looking for something special? See a few offers here: