Rock in Rio concert next week celebrates Rio's 450th Anniversary
We will have a special celebration of Rio's Anniversary this week. The Rock in Rio's Sunset Stage will hold shows to honor the city's history and culture with performances of chorinho, samba, rock, etc.
Great artists on stage during Rock in Rio festival
Among the several artists on stage during this week's festival, we will have names such as Fernanda Abreu, Gabriel O Pensador, Léo Jaime, Maria Rita and Roberta Sá.
The musical director of the Sunset Stage has said that the show will have songs that highlight the beauty of Rio de Janeiro. Will be songs that talk only about Rio!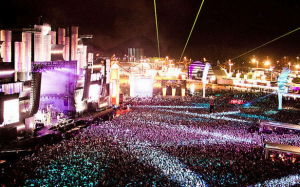 Music and Pictures
Along with the music, the performance will include a picture show that features images of photographer Marcos Hermes on three different screens.
Rock in Rio's Anniversary
Rock in Rio will be celebrating it's own anniversary this year as well with thirty years of history.It was 30 years ago that we had the first edition of Rock in Rio! In 1985.
See the schedule of Rock in Rio
You can check the schedule of the concerts here.