Election of the King Momo in Rio Carnival
Having a King Momo is a tradition that Rio de Janeiro holds for the past 6 decades! It has begun back in 1933 when we use to have a papel marche doll representing a king's figure. Only in 1949 we had the first Carnival King: Gustavo Mattos. Since then about 2 months before Rio's Carnival we have the election of the king, the queen, first and second princess.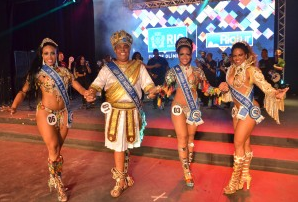 The King Momo competition
Each year contestants compete for the role. Wilson Dias da Costa Neto was voted the newest Rei Momo (or King Momo in English) in Rio de Janeiro. Wish to be a King Momo? You have to know how to samba. You must be a very friendly person. And most of the time you are, let´s say, a big person!
Carnival representative
Millions fill the streets in Rio de Janeiro every year and the 'king' is the representative of this huge crowd. Thousands parade at sambódromo (avenue made for the samba schools) and in more humble areas across the city.
The official dates for the Brazilian Carnival in 2016 are February 5th, 6th, 7th and 8th, with the winners of the Carnival competition (samba schools parade) announced on Ash Wednesday, February 10th.
To find out more about the samba schools parade in Rio de Janeiro.