Tourists in Rio de Janeiro
It was a great Carnival for the tourism industry indeed. We have received almost 1 million tourists in the Wonderful City, how Rio de Janeiro is called. The exact number provided by the secretary of tourism was 977 thousands tourist. It has generated a income of US$ 782 million to Rio. There were also 10 cruise ship during the 4-day Carnival in Rio.

Blocos in Rio de Janeiro Carnival
You see above two of the several 'blocos' that we have in Rio de Janeiro during Carnival. It is infact estimated that there are about 450 blocos in the city! Don´t know what 'bloco' is? Well, they start small, usually with a group of friends getting together to celebrate Carnival. Then more and more people join the group. The final result is a crowd of thousands of people in a parade the can last for a few hours!
See the amount of people on the streets of Rio de Janeiro: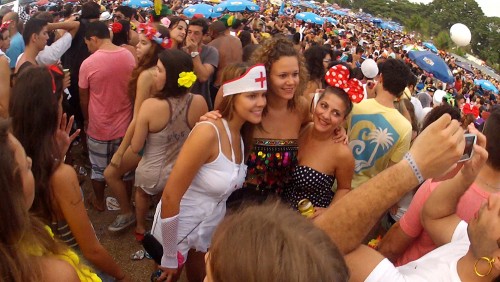 Have you been to Rio de Janeiro during the Carnival period? Did you enjoy it? Have plans to come over to join the party? Would be great if you could leave your comments below!