Tours in Rio de Janeiro
Great Rio de Janeiro tours made for you.
Will Rio de Janeiro be your next destination? Would you like to choose among our great Rio de Janeiro tours made just for you? Perhaps all you need is a Brazilian tour guide to help you in Rio? Would like to book an excursion in Rio de Janeiro? Here you will find the best tour in Rio de Janeiro made to suit your needs.
On our site you can go straight to our tours (options below), or you can keep reading on this page the 4 reasons why you should book your tour with us. Find out what sets our services apart from the others.
Please note that you don't have to make any payments in advance. Just choose your tour in Rio de Janeiro and send us an email. You can also customize your tour. Then you make your reservation and pay for your tour once you arrive in Brazil. No deposits needed!
4 reasons why you should book your tour and have a great time in Brazil with us:
1) Customized Day Tour in Rio de Janeiro.
Our tours in Rio are customized for you. 
What would you like to do? What would you like to see?
Choose among our Rio de Janeiro tours or email us. This way we can customize your tour from the moment you arrive in Rio de Janeiro airport to your departure. We make our tours in Rio to best suit your needs and we can pick you up and drop you off at airports, cruise ship terminal, bus stations or any other location you would wish to be picked up or dropped off at.
We have put together a Day Tour in Rio so you can have an idea of the places you can visit in a few hours. The traffic in Rio is a challenge for us all so the attractions and itinerary during our Rio de Janeiro tours can change accordingly.
2) We will be in touch.
– You can expect from us not only a great service, but we will also be provided with a cell phone that you can use to contact us 24 hours a day if you have any problems while in Rio de Janeiro. Portuguese can be a tricky language and you never know when you might need our help.
– Early arrival at the airport in Rio de Janeiro? We organize your transfer for you. And if you wish, you will be able to purchase brazilian local currency (Reais) to be able to pay tips or make purchases where credit cards are not accepted. You will be able to purchase the currency at a competitive rate. And have the option to sell it back to us at the end of the tour.
– You do not speak English and wish to book a tour with us? Not a problem! Spanish and French are also some of the languages we speak.
3) All Inclusive Package Tour in Rio de Janeiro.
We offer our tours in small groups and private, to ensure that the best possible service will be delivered to you and your group. Entrance fees to Corcovado (where Christ the Redeemer is) and to the Sugarloaf are part of the package tour. Don't wish to include these attractions? Not a problem! We customize your tour in Rio de Janeiro.
4) Avoid the crowds during your tour in Rio de Janeiro, specially during the summer season!
During your tour in Rio, we will do our best so you avoid the crowds. Sometimes it is not easy but the local knowledge we have will definitely help you. We have years of experience visiting Corcovado to see Christ the Redeemer.  The conclusion is that we never take our clients by van. On the picture below you can see how busy it can get if you take this Rio de Janeiro tour using vans: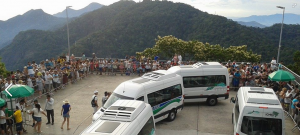 You can wait up to 1.5 hours just to catch the van to go back to your hotel. A much more efficient and pleasant way to visit the Christ is by train.  A local Rio de Janeiro tour guide can make all the difference!
Clients' comments about our tours in Rio de Janeiro. Just click below: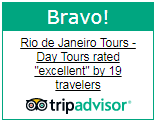 Add our Rio tour in your itinerary!
We work with an interesting site where you can organize your entire tour. Choose your destination (Rio de Janeiro), then you can add the activities, hotels, tours, etc. Inspirock is the name of the business. Let us know if it works for you. You can add Rio or any other cities in Brazil or in South America. Not sure what do after visiting Rio? Send us an email so we can give you a hand. It will be a pleasure to help. Please have in mind that a trip to this part of the world has to be very well organized.
Rio de Janeiro is unique!
Rio is indeed unique and unforgetable! Make sure you have a great time in Rio de Janeiro organizing your tour in advance. Email us ( you can also call  +55 21 97190 8889 )  and we will be happy to provide you with an estimate about your tour.
A few links to help you organize your tour in Rio:
How much is the Real (Brazilian currency) worth?
A sunny day in Rio? Check the weather in Rio.
How far are the other cities from Rio de Janeiro?
We love taking pictures of Rio!